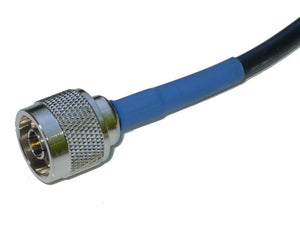 RG8X Coax Cable with Connectors (4 Foot Length)
Please Note: The price shown will automatically update as you pick the connector options above. MCX and 'F' connection options are an additional $5 each, because they include adapters. Please pick connectors carefully!
Specs
Length:  4 Feet
Color:  Black
Manufacturer:  Davis RF
Ohm:  50
Jacket:  PVC IIA
Outer Diameter:  0.242"
Braid:  95%
Velocity Factor:  .78
Center Conductor:  19 Strand, #16 Copper
Max Watts at 150 MHz:  400
Loss in dB at 100 Feet: 30 MHz: 1.5, 150 MHz: 3.1, 450 MHz: 6.7, 1 GHz: 11.2
Produced: The cable is Made in the USA, terminated with either RF Industries or Amphenol brand connectors, which are not made in the US.
Performance: These are a great flexible patch to be used between a large main cable and your device, if attaching your main large cable directly would be difficult. They're also good for adapting various devices. Signal loss is not an issue at this length.
Ordering
Due to the almost infinite number of cable/connector variations, we can't list everything. If you don't see what you need, please email us and we'll see what we can do. Note: Options that offer 'F' Female are achieved with an included 'F' Female/BNC Female adapter. Options that offer MCX Male are achieved with an included MCX Male/SMA Female adapter. Because of this, each of those options are an additional $5.00. It is necessary to do this, due to the fact that neither 'F' nor MCX connectors, are available to fit on standard 50 Ohm cables. If you have basic questions about antennas or cable, please try checking the FAQ pages. If you're confused about connector types, the Connector Guide may help.
---
We Also Recommend